House Kornati
Add to my wishlist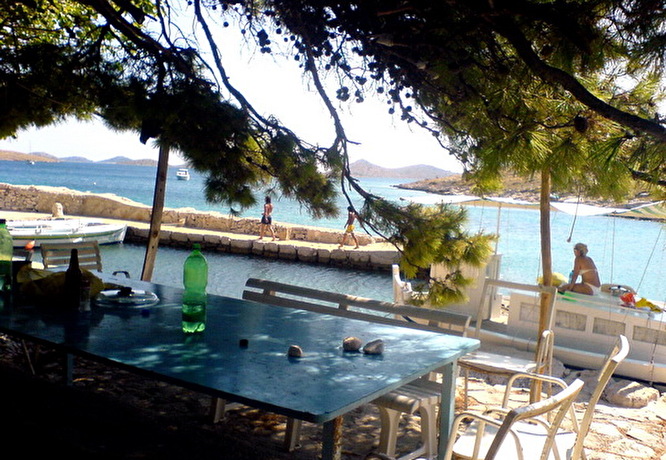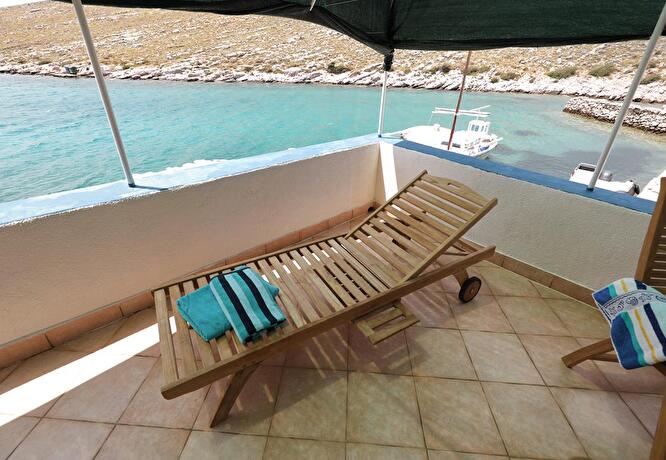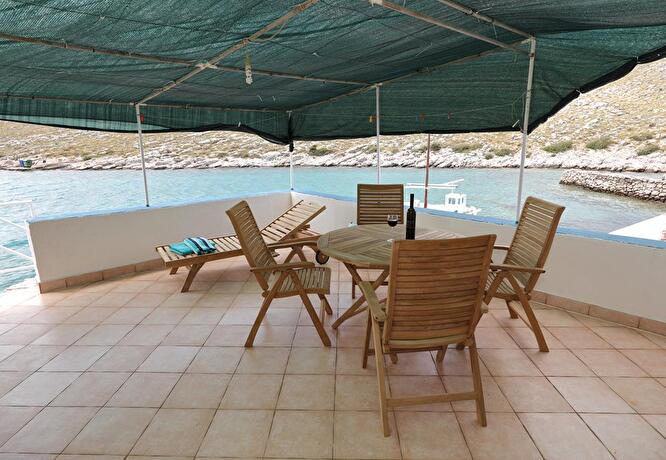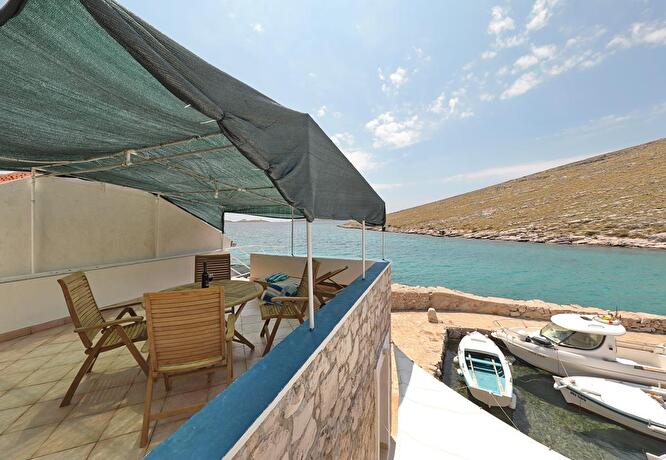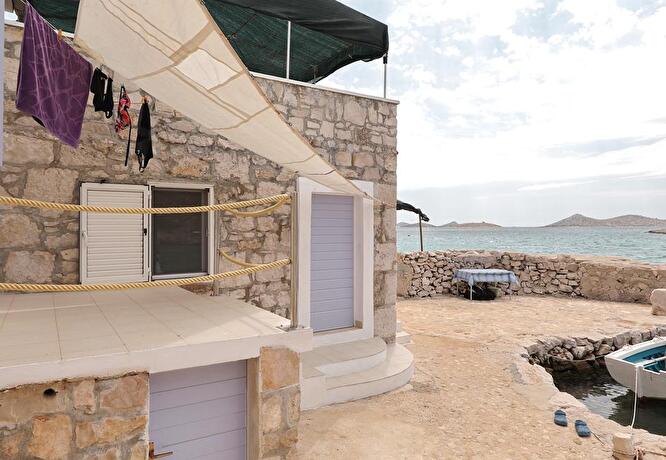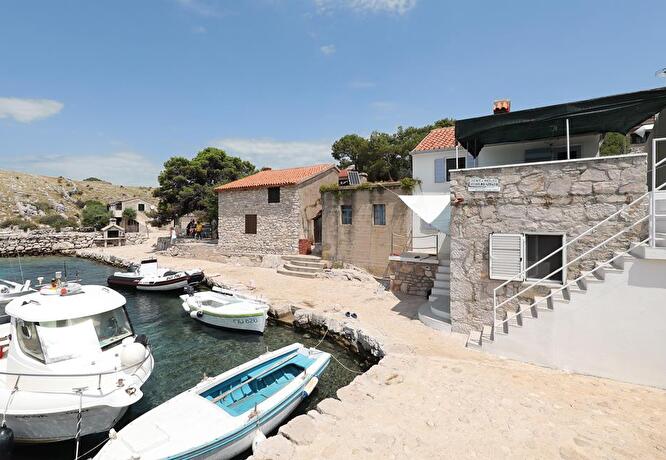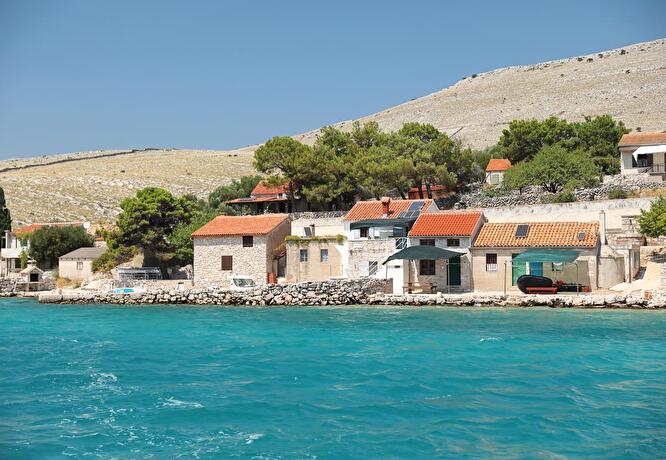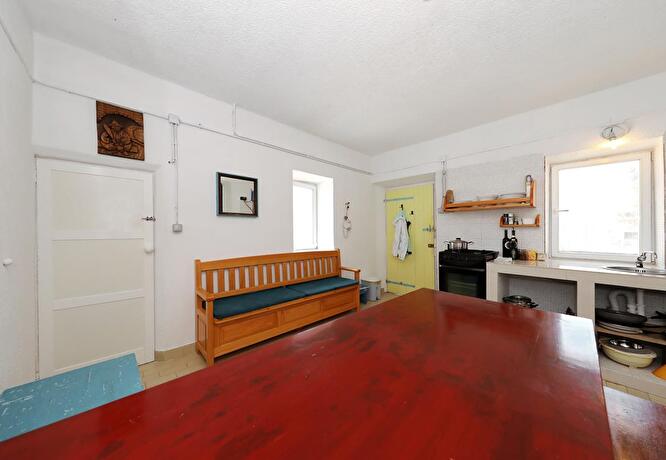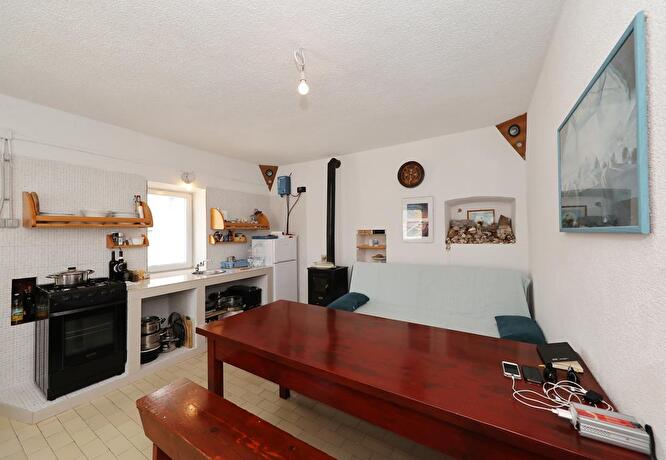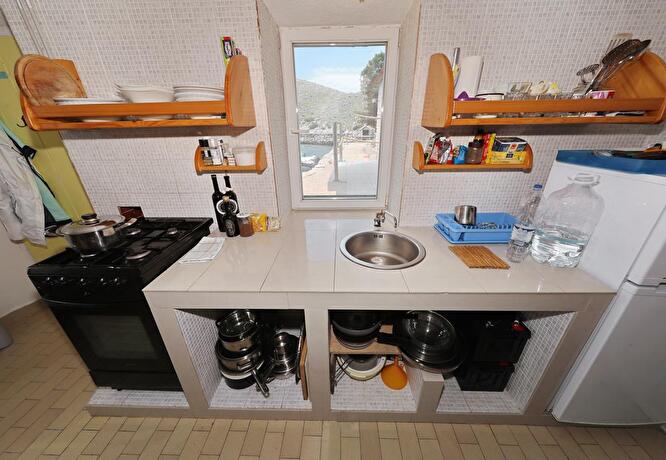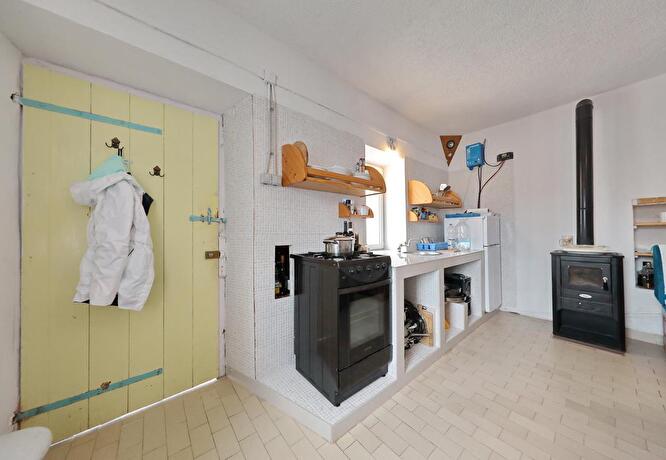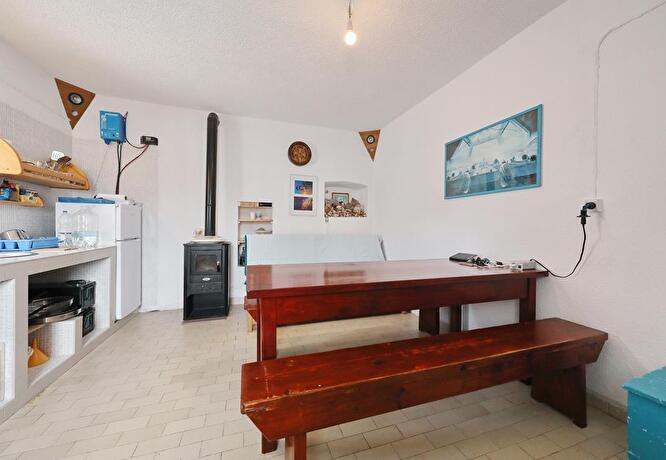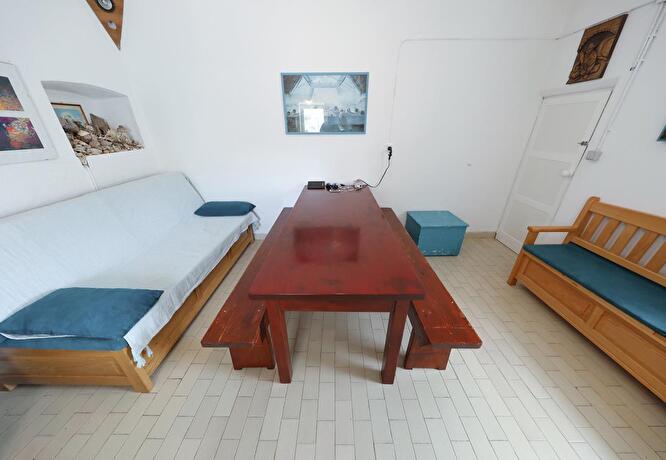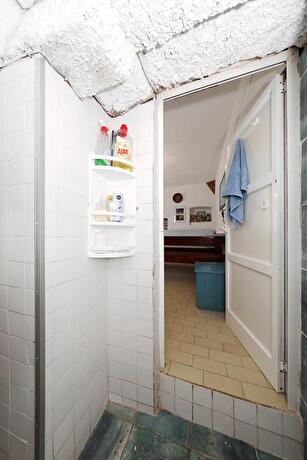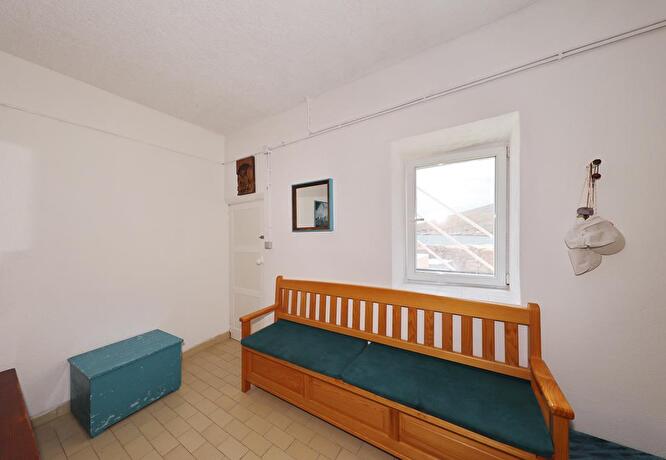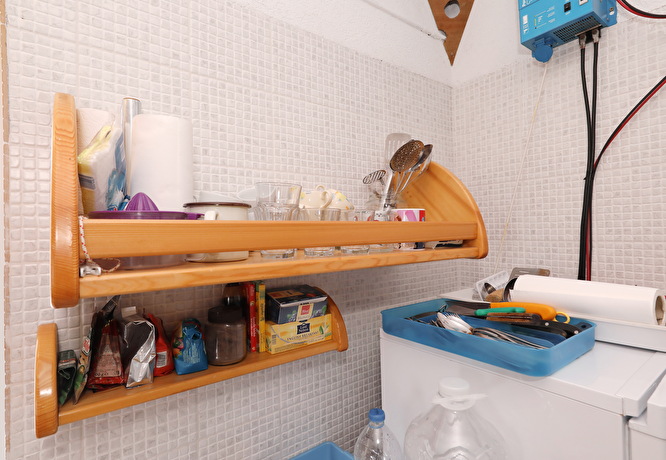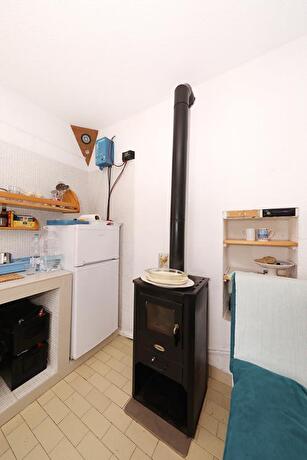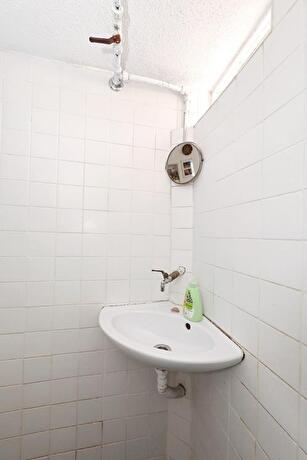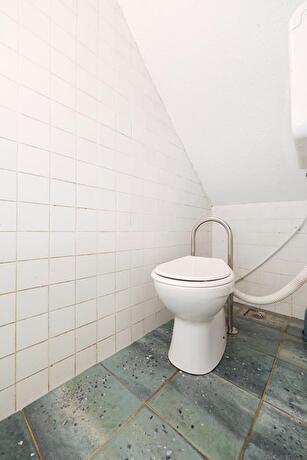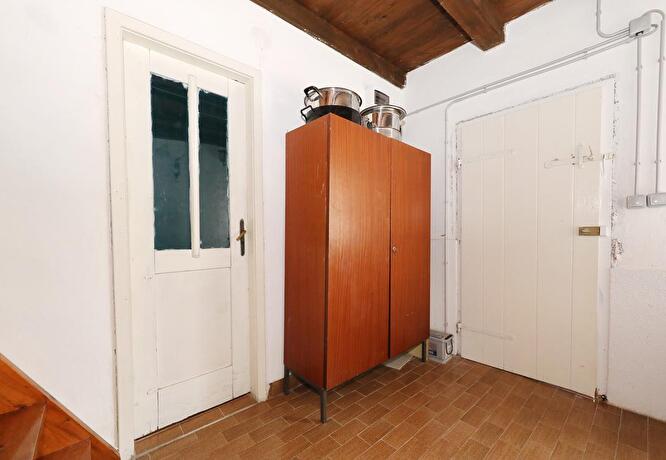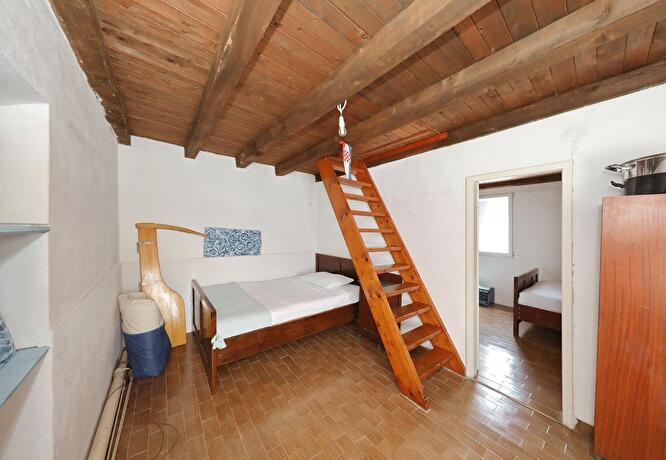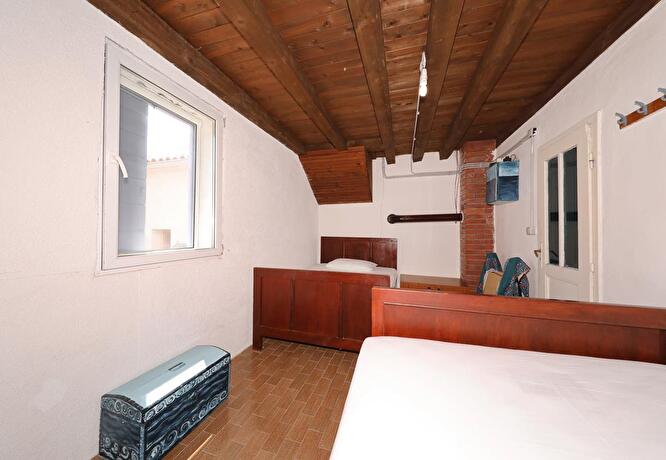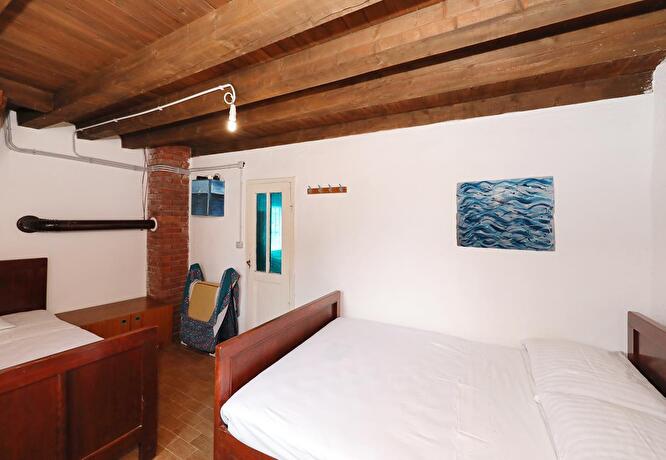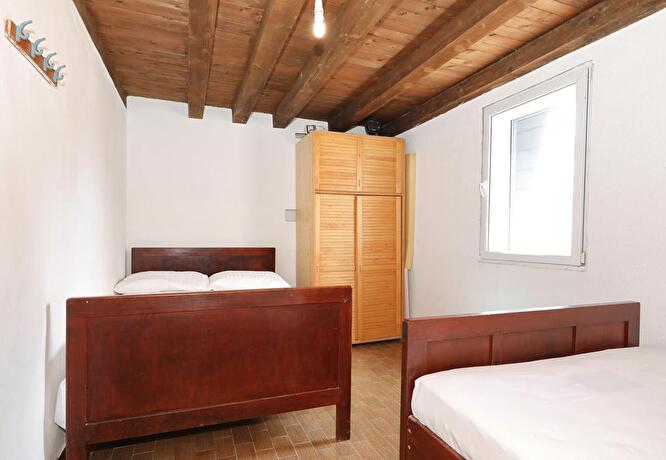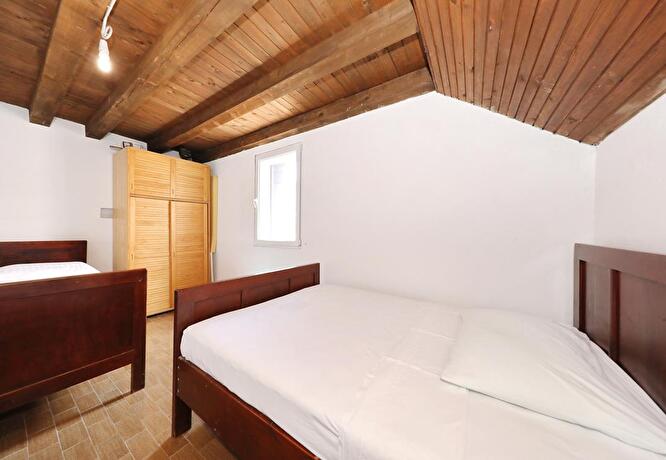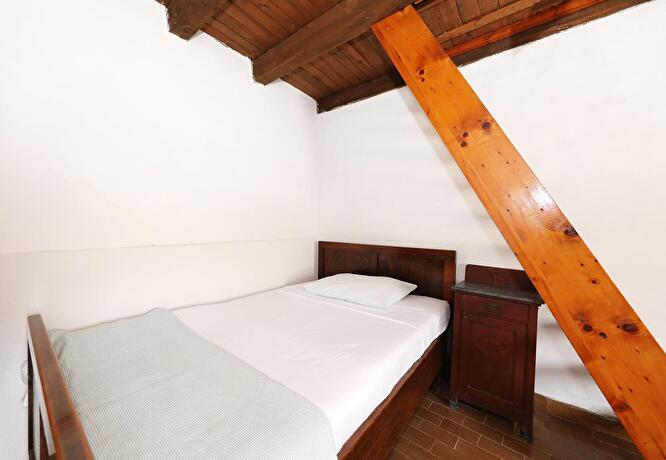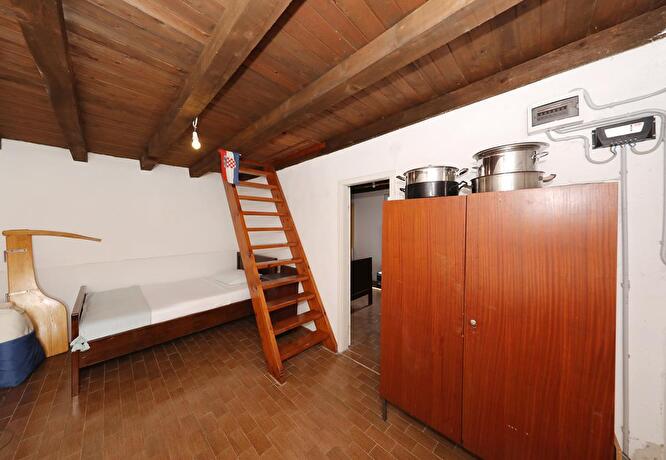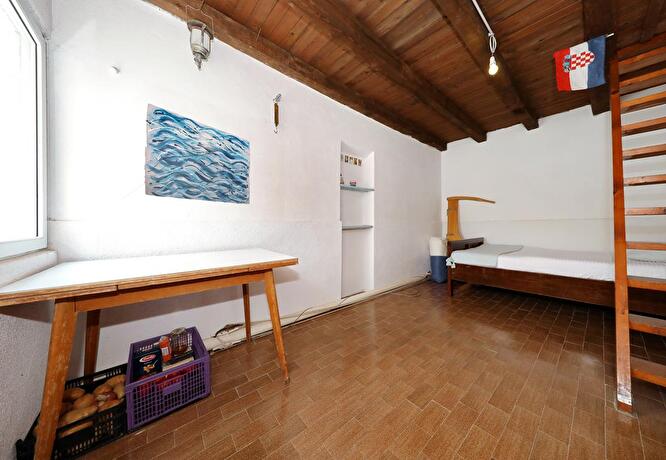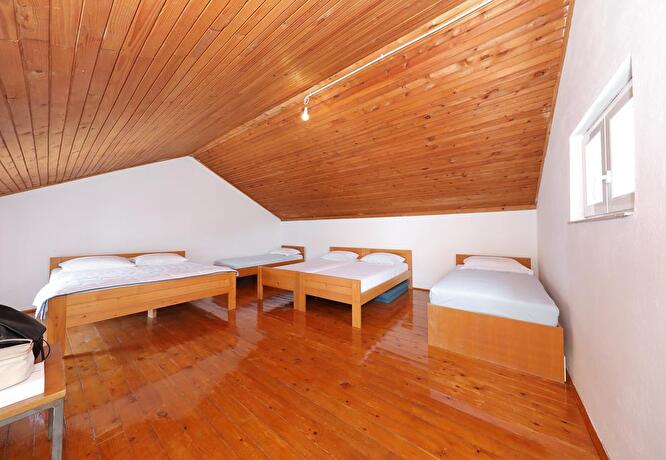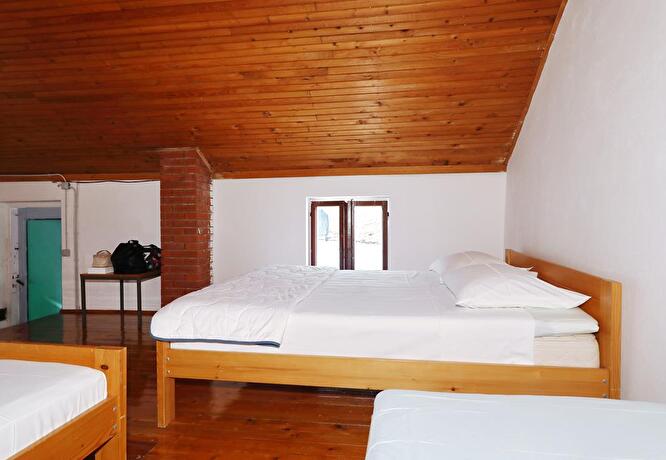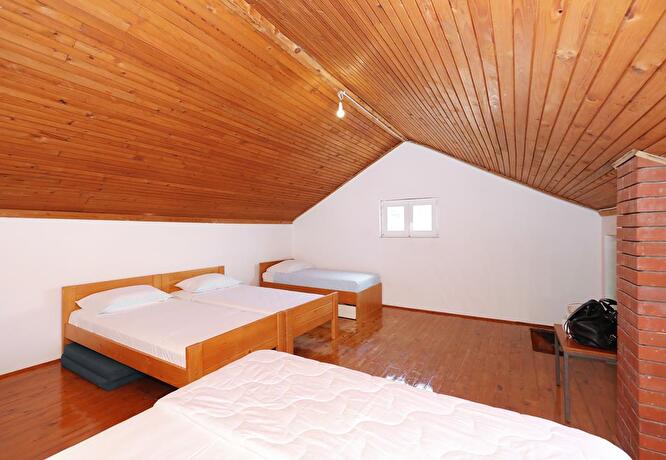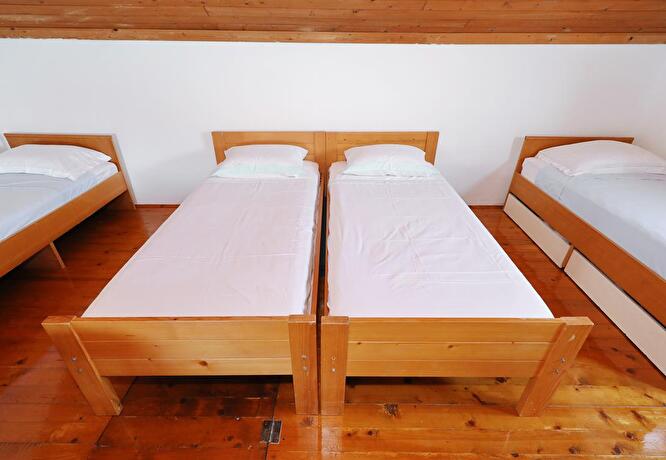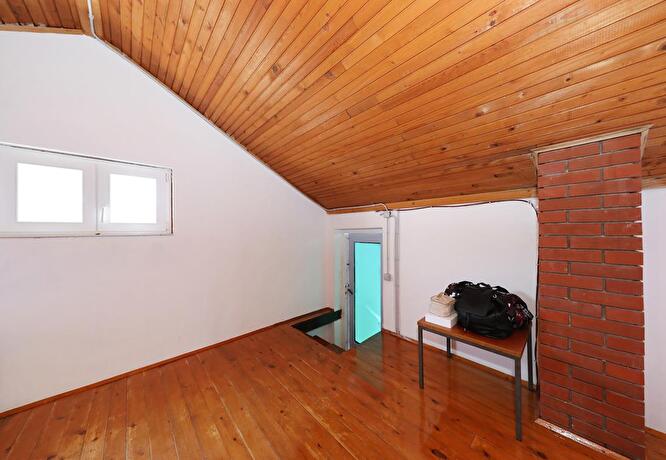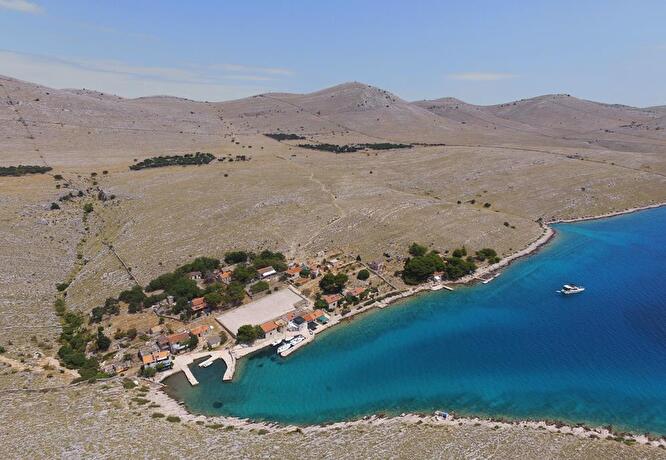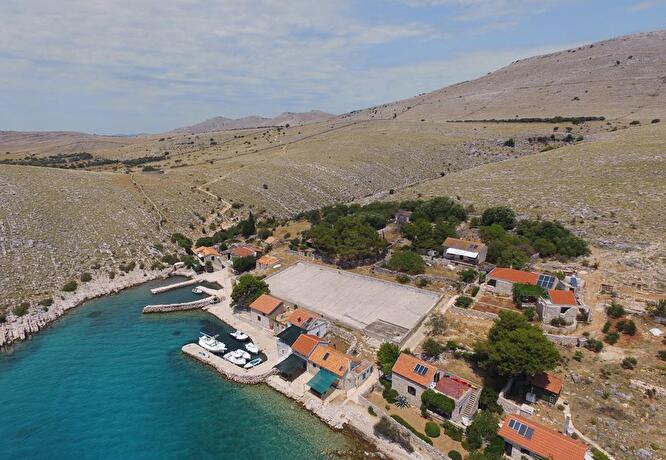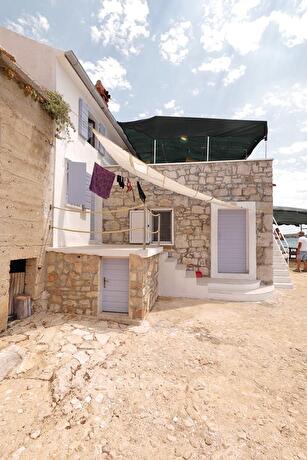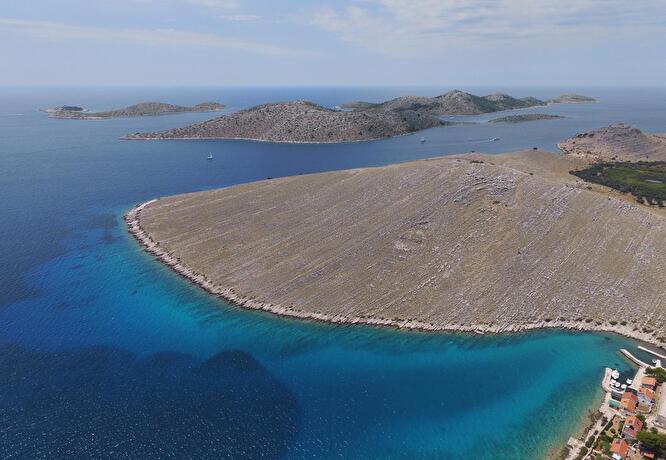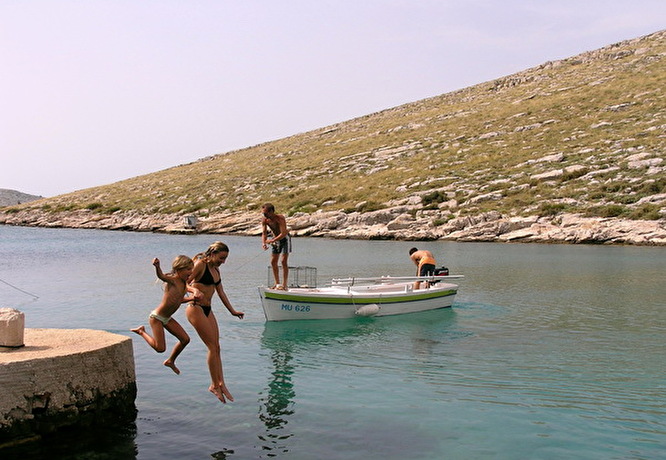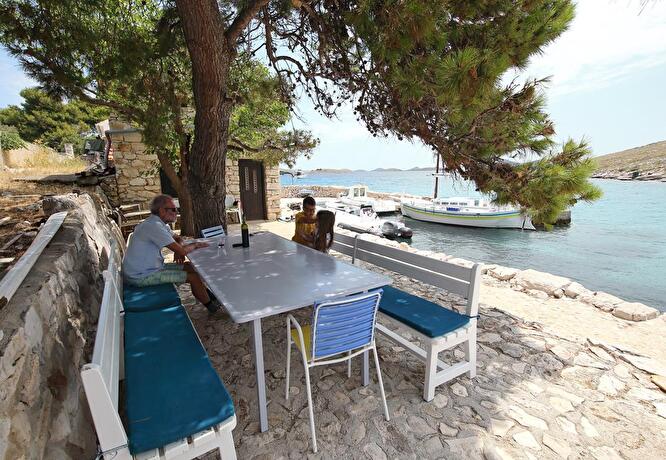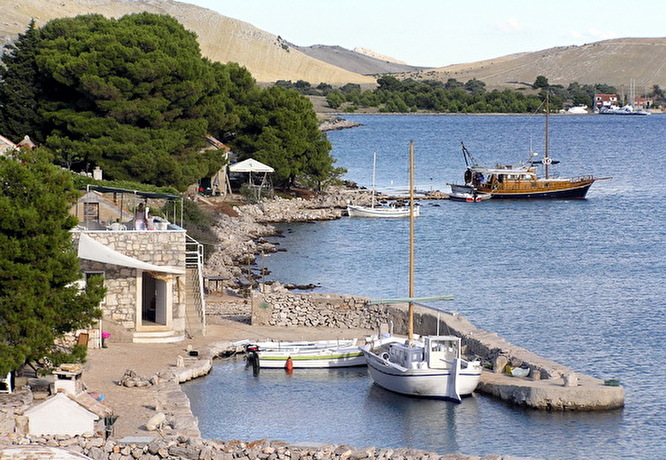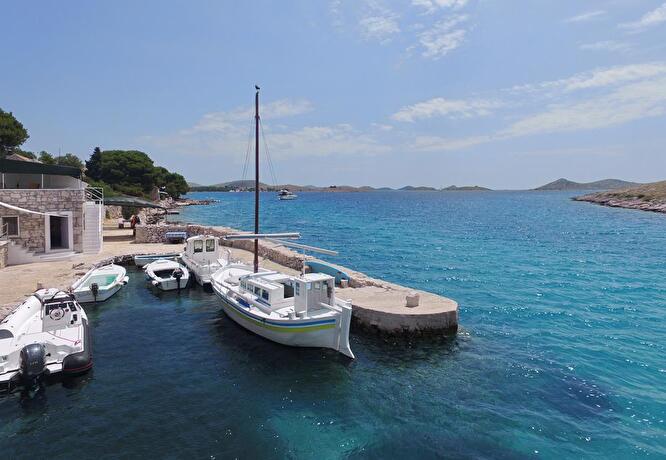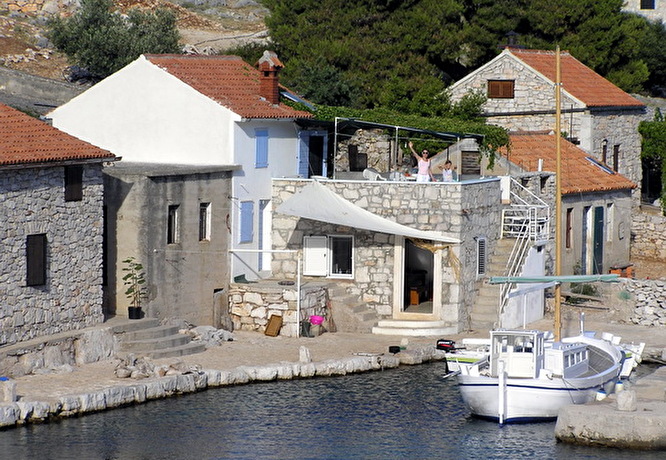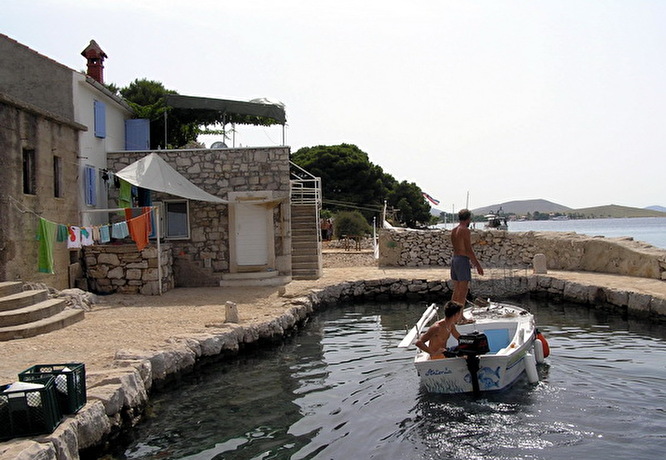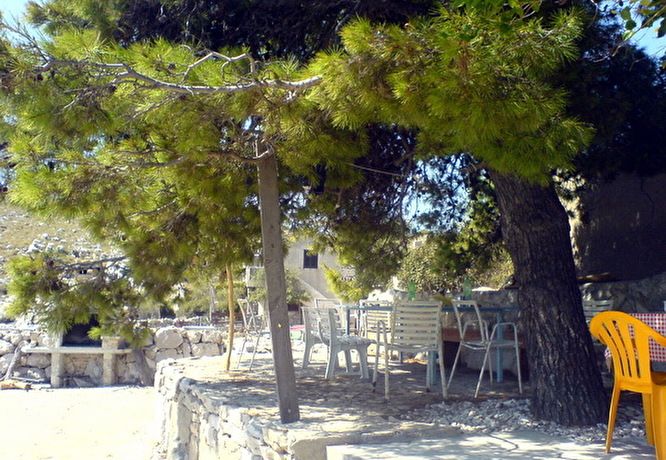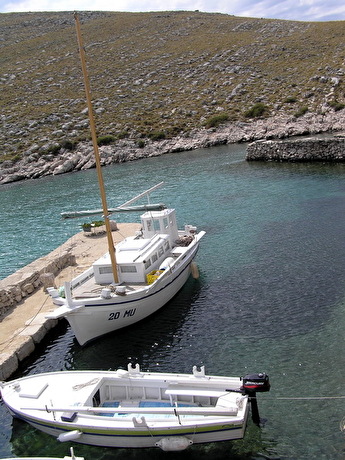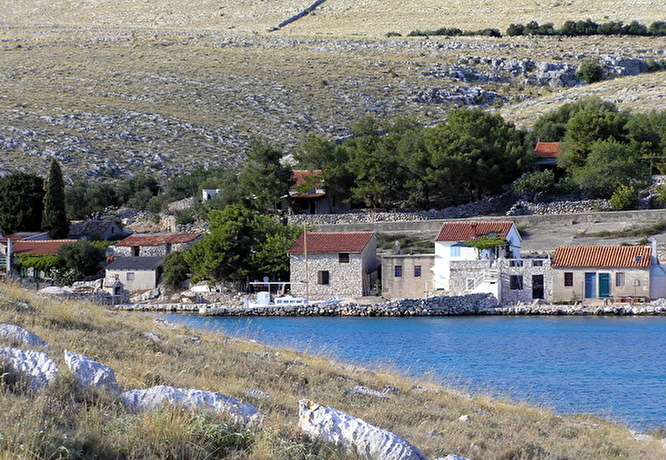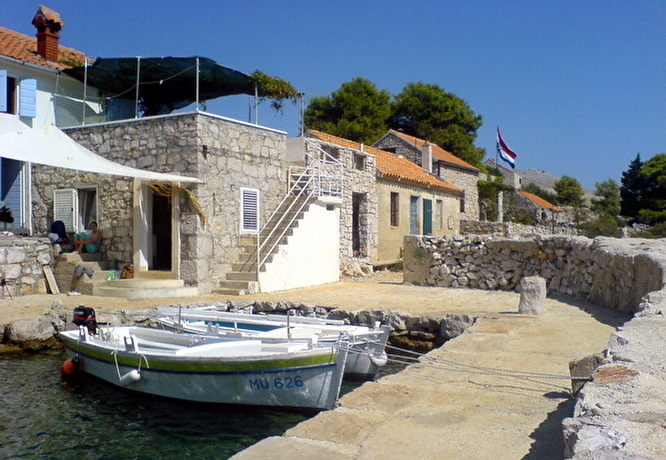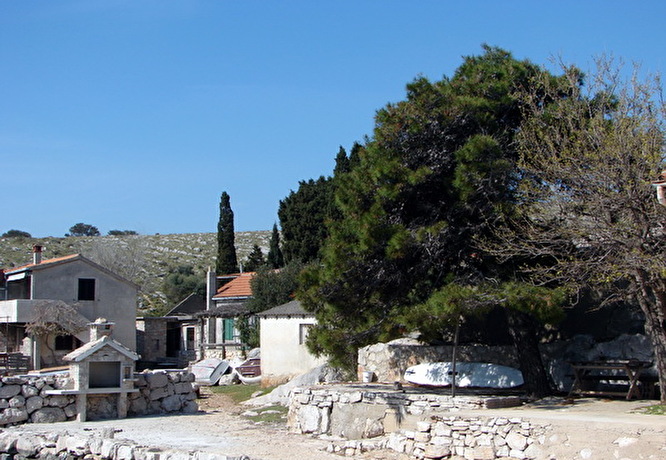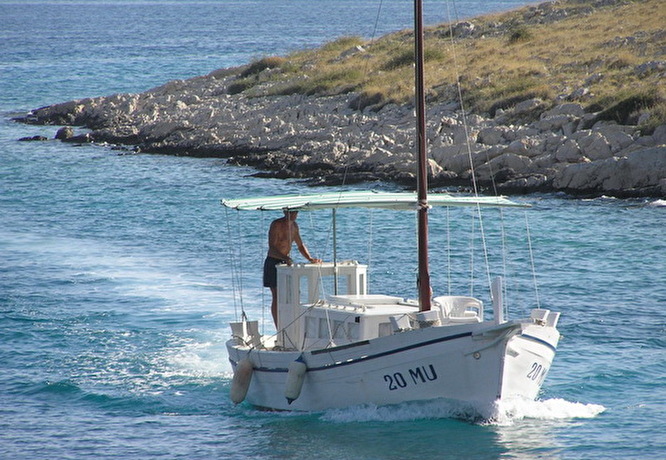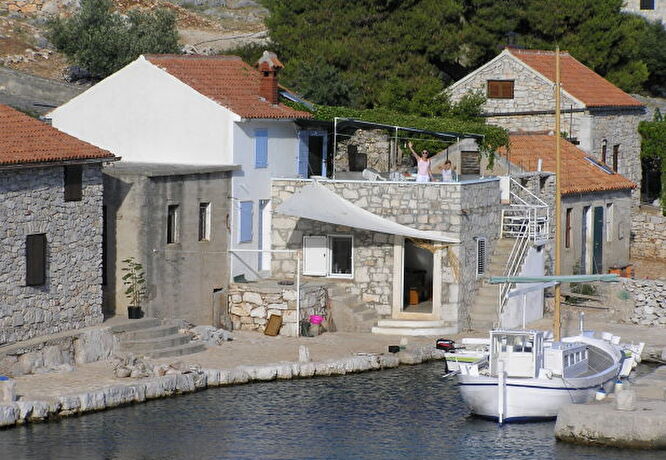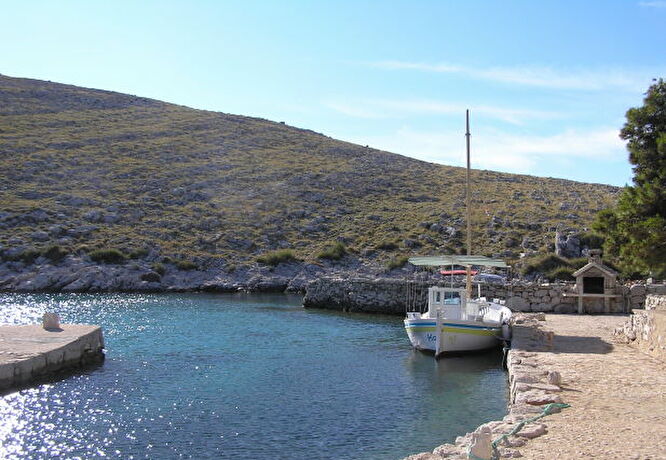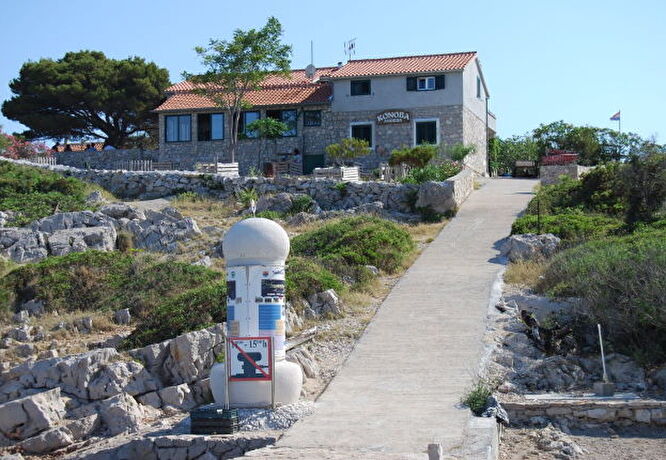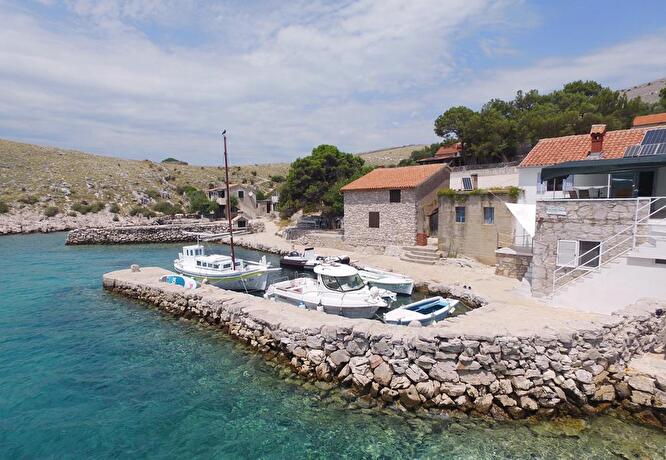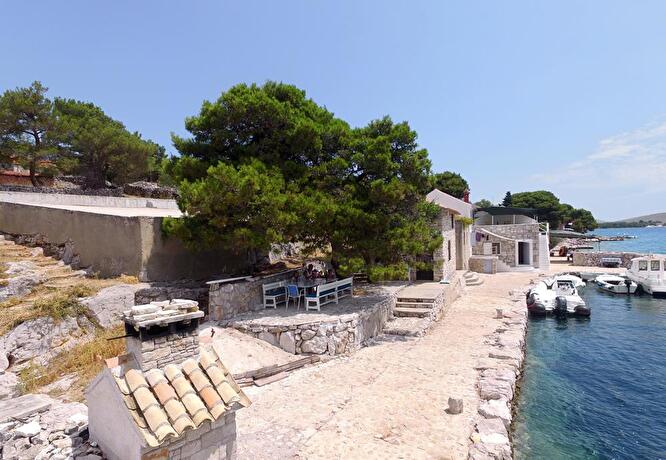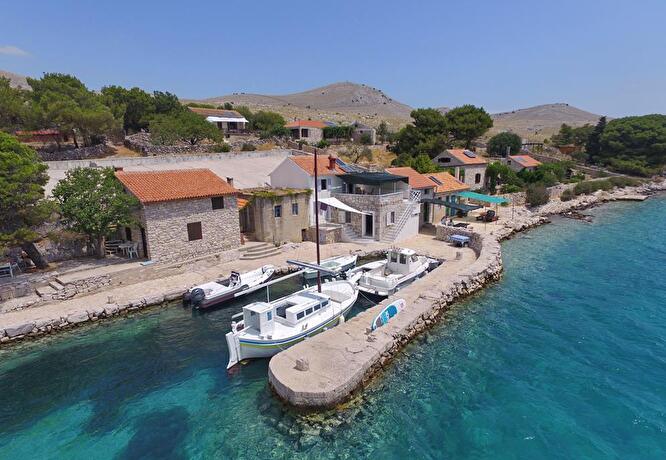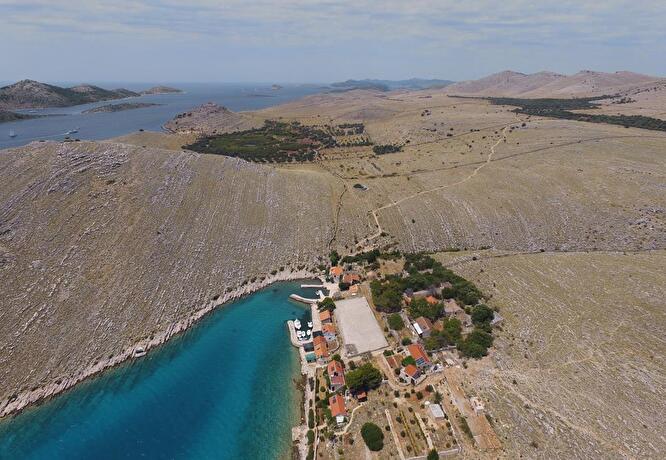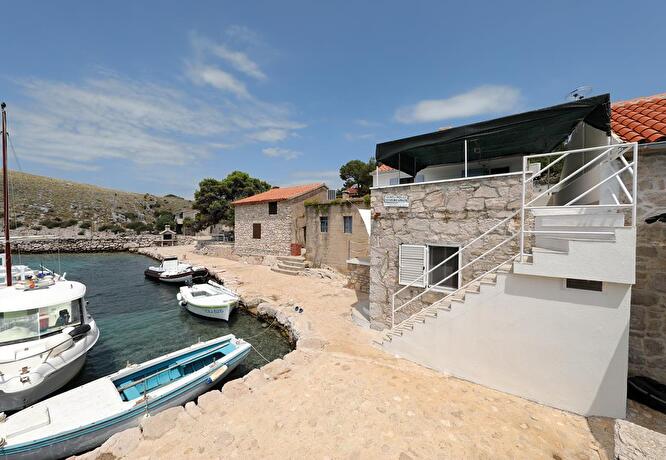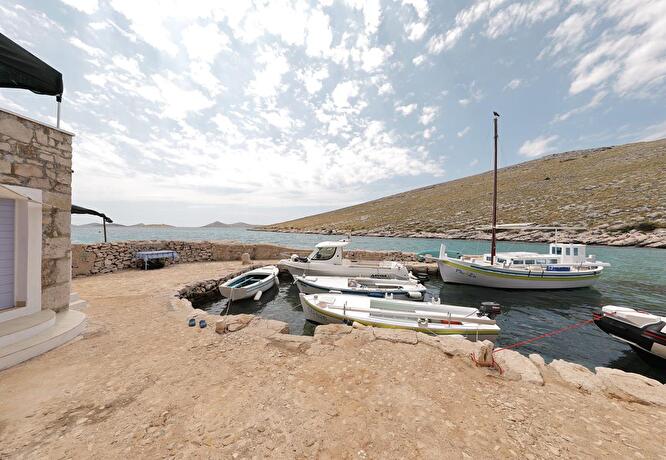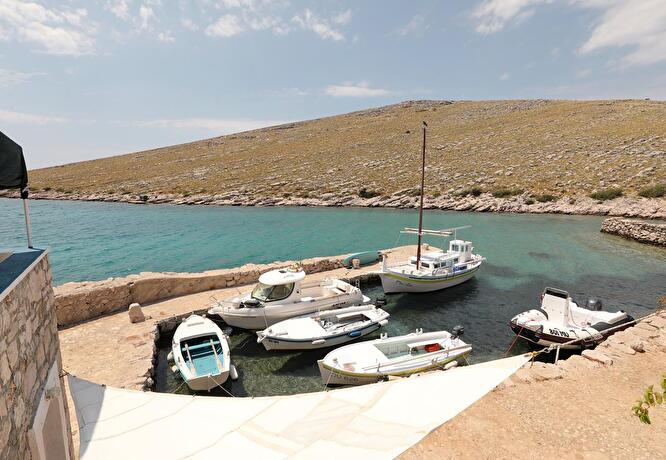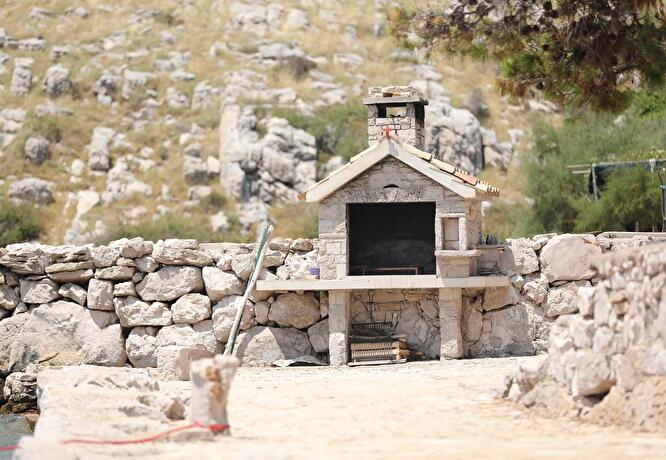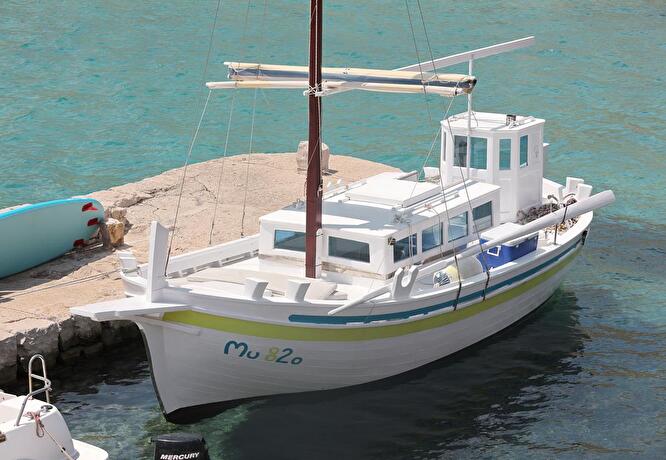 See the location on the map See the location on the map
Price from 148 € per night - 8 Persons
See availability
Equipment
Composition of the accommodation
Type

8

Surface

75

Number of bedrooms

3
Number of double beds

3

Number of simple beds

2

Bathroom with shower
Balcony/Terrace
Surface balcony/terrace

20
Interior equipment
Exterior
Description
Only 4 meters from the sea, the fisherman's house spirit Robinson is ideal for 6 or 8 people. On the ground floor are the living room / kitchen of 20 m2 and bathroom; over a 20 m2 terrace is also accessible from the outside, overlooking the sea and shaded by an arbor.
In the body of the house there are 2 bedrooms downstairs, each 15 m2, one with a double bed and the other with 2 single beds. The top is occupied by a large room of 30 m2, accessible by a staircase and a hatch type scale, contains 1 double bed and 2 single beds.
Terrace under pine with barbecue waterfront give you an ideal setting to enjoy freshly caught fish, for pleasant moments of conviviality accompanied by the chirping of cicadas and clapoti waves. Sudden urge to swim? You can dive straight into the crystal sea. Follow paths for nice walks, you will discover beautiful vistas; 800 m from the house, an old chapel stands next to an olive grove, an oasis in the rubble. Climb to the summit to make unique photos! A real treat for lovers of beautiful photos, sunsets and others.
With the small boat, you can coasting creek to creek, get more from the sea; 150m along the sea, a small restaurant offers typical local products, simple and always fresh. In these islands there is no mains water or electricity. A tank feeds the house water is potable; 12v solar power is sufficient for normal use and an adapter to load the small electronic devices such as cameras, mobile phones, computers.
Phone network password and you can use a laptop with a USB key style. Refrigerator and stove are gas.
Practical issues:
Supply to start, you make provisions, there is everything you need in supermarkets..
Transfer: 2:30 boat from Bibinje, near Zadar. It is already the first holiday trip, a journey that takes you through some of the archipelago. The cost is 200 euros for all occupants of the house; for information on an excursion to Kornati day costs at least 40 euros per person. Your car will stay by the owner.
Transfers are mandatory Saturday for organizational reasons and you must be in place before 09 am, but if you arrive a day before the owner may help you to find accommodation in Bibinje.. Far from the crowd, an ideal formula for relaxation, a change of scenery in a spirit of nature and ecology. Be transported in time, imagine what was the live of fishermen !
Motorboat of 4.60 m for rent (directly to the owner) at a price of 30 € per day.

For any questions about this type of atypical location, contact us.
Rental nearby
CALENDAR/PRICE/BOOKING
To get the price click arrival and departure dates directly on the calendar or select the dates in the field below.
REVIEW
Evelyne, 46, FRANCE
with family, summer 2018.

Very good

la maison est idéalement située au bord de l'eau, le cadre est incroyable en pleine nature loin de toute modernité et urbanisme.
l'équipement de la maison est sommaire mais nous n'avons manqué de rien il y a l'essentiel et les couchages sont très bons
toute la famille a adoré le séjour sur l'île, les balades à pied, les levers et couchers de soleil magnifiques, les sorties en mer sur le petit bateau
nous avons également beaucoup apprécié les propriétaires très accueillants et les quelques voisins présents sur l'île

Armelle, 46, France
with family, summer 2018.

Very good

Maison très agréable au milieu du hameau. L'animation est assurée par les bateaux qui accostent dans le mini port sous les fenêtres. Dépaysement assuré.
Les plus compliqué reste de prévoir tout le ravitaillement pour une semaine.
Nous avons emmené des planches à voile. Lecture baignade petites ballades à pied ou en petit bateau, voilà le programme.
Lieu unique d'une grand beauté.
Vue à couper le souffle lors des promenades.
Nous recommandons cette location atypique.

Olivier, 39, France
with family, summer 2017.

Very good

Voyage jusqu'à la maison dans un bateau traditionnel, très original, navigation jolie entre les îles; pour nous c'était super mais pour les enfants un peu long. On a découvert la maison simple avec la mer juste devant, dans une baie agréable et apprécié de plonger dans la mer à tout moment pour se rafraichir. Comme on aime bien la nature, on s'est baladé jusqu'à la chapelle à travers les champs d'oliviers, il faisait très chaud et on s'est baigné dans la crique en bas de la chapelle, un vrai bonheur. Les propriétaires sont très sympas. Il faut penser à s'approvisionner avant d'embarquer. Séjour dépaysant et ressourçant.

Benoit, 52, France
with family, summer 2016.

Very good

l'endroit est magnifique et authentique avec une très belle vue sur la mer et le petit port de peche. Ayant un bateau nous avons apprécié la proximité du quai. Nous avons également beaucoup apprécié la grande table et la terrasse à l'ombre d'un très beau pin. Les propriétaires sont très accueillants et très à l'écoute de nos besoins. Nous avons passé de très belles vacances !!!
Distances