Destination Island Rab
Island Rab, touristic destination in the Kvarner region ...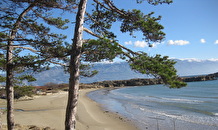 The island of Rab is situated in the Kvarner region, between the islands of Krk and Pag north to south. It is connected by boat to Krk (accessible from the mainland by a bridge) and accessible from the mainland by a ferry made ​​the crossing in 15 minutes.
Rab, an island diversified, with its rocky landscape and arid east-face-continent and much gentler on the other side, towards the sea. This is also the greenest island in the Gulf of Kvarner, with a rich vegetation: 40% of its surface is covered by forests. Landscapes alternate between pine forests, fertile fields, vineyards and olive groves, mountains and sandy coves, all surrounded by an emerald sea rich in fish.
Finally, his expertise tourism for over 120 years, the legendary reputation of kindness and hospitality of its inhabitants make the island of Rab a top destination for the holidays.






You see rentals in
Kvarner › Island Rab