CROATIA TRAVEL GUIDE
Croatia, a small country but a big tourist destination with more than 10 million visitors each year.

You will love its many strengths: exceptional, a rich architectural and cultural heritage, traditions and authenticity preserved.
We are glad to share our knowledge of Croatia.
We have created these pages to guide you in your choices, you discover the great diversity of this country and its peculiarities.
You will find on the pages of Couleur Croatie information on destinations, what you can see and do, personalized suggestions and many other things that will come
Almost all of the photos on our site have been taken by ourselves or transmitted by the owners of the rentals. Some photos have been lent by and published with the agreement of the Croatian National Tourist Office www.croatie.hr , within the framework of the promotion of tourism in Croatia.
Well served, welcoming and safe, Croatia is waiting for you!
Destination Croatia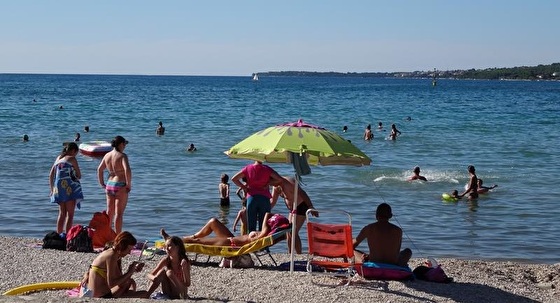 This European country so small in size yet so immensely abundant!  A charming country, at the crossroads of Eastern European and Mediterranean cultures.     TO VISIT IN ALL SEASONS
At once familiar and yet a complete change of scene, Croatia is full of contrasts : Mediterranean and continental climate, sea and mountains, fishing and agriculture, vineyards and forests, desert islands and towns, Roman remains and Baroque castles, dolphins and bears, diving and climbing, grilled fish and tasty game … 
Come and discover this incredibly colourful country, steeped in traditions, whose natural, historical and cultural heritage is simply breathtaking.
Its unique maritime landscape with a jagged coast of 1000 islands and translucent sea.

Its well-preserved, intact environment with no less than 18 National natural parks home to remarkable plantlife and wildlife : wolves, bears, lynx … unique in Europe !

Its jewels cities with old urban culture:  treasure as Pula and its arena, Split and Diocletian's Palace, Zadar and its Roman remains, Korcula, Hvar, Dubrovnik, Varazdin.


Its archeological sites, museums.




Festivals and other cultural events, traditional festivals such as jousting, holy festivals, village festivals. 

Gastronomy, crafts and special traditions each of its regions.

 

Sports and recreation of all kinds on land and sea: hiking, fishing in salt or fresh water, hunting, cycling, sailing and diving ...

To discover during a short stay or a long trip, interesting in all seasons of the year, Croatia is surely one of the last preserved paradises of the Mediterranean!
Croatia: what types of tourists ?
Croatia: a destination that caters to those who want something else ', family or group '':

Families during the school holidays and enjoy the holidays together in a different environment.
Young people or retirees who can enjoy the benefits of the off-season.
Proponents of active holidays around several activities.
Enthusiasts who wont to theme holidays.
Lovers of long weekends for a relaxing break.

The lesser-known regions in Croatia
Beyond its unique strengths, Croatia offers a diverse tourism offer, as part of an authentic environment.
Certainly Croatia is often associated with the sea and the sun, but it's not just the coast and islands; it is also the beautiful surroundings on the inside, with lots of charm and tradition, which are worth a visit:

Croatia  Central to the hilly terrain crossed by rivers, covered with vineyards and. A land of fairytale to the peaceful countryside, surrounding medieval castles, hot springs and holy places.
Slavonia, the fertile plain huge fields bordered by rivers, preferred habitat for biological species; with authentic mountain villages and natural parks, hot springs and hiking trails, it is attached to the traditions and the hospitality of its people.
Most popular accommodations in Croatia
Renting an apartments or villa with local residents as a hosting choice is traditionally very popular in Croatia. As well as the obvious economic benefit, this option offers a more friendly approach, allowing for easy and rewarding contact with Croatian people.