Destination Island Solta
In Central Dalmatia, Solta is the closest island to Split. A small island dominated by the nature that inspired the most famous poets of the Renaissance: olive groves, vineyards, hidden bays, pine forests ... lots of charm.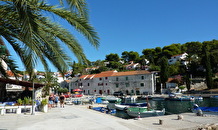 Solta is a small island characterized by its authenticity, its beautiful untouched nature, a traditional way of life. It is known for over 2000 years for its olive oil that Homer called 'liquid gold', honey that is one of the best in the world whose specialty is rosemary honey, vineyards. Solta is a balanced island between agricultural villages in the innersideand small picturesque ports on the indented coast which hides many bays. Away from mass tourism, Solta has kept its traditions and visitors can enjoy there handicrafts, gastronomy and various festive events. Solta is a quiet island with a turbulent history that contains remains from the Neolithic period to the Renaissance, through the Roman period. 
A rental in Solta is the opportunity to spend a quiet holiday in a natural setting, to discover the places by bike or walk, to enjoy the clear sea, to immerse themselves in an authentic relaxing atmosphere.                  
Solta is the closest island to Split, located just in front and 40 minutes by ferry.
Small island 20 km longand 5 km wide, it is served by a bus line that connects the villages and liaises with boats to Split.It is very easy to stay there, even without a car.
Solta lives to the rhythm of nature,populated by farmers and fishermen since prehistoric times.This is the island of olives,  vineyard. An island outside the mass tourism that appeals to lovers of authenticity, quiet atmosphere and the charm of its old villages.
An ideal island for bike rides from village to village or walk through the olive groves and vineyards, on roads lined with stones,up to small hidden coves. Several discovery tours are marked for cyclists and pedestrians, away to meet history through churches and chapels,archaeological remains,the fish farm of the emperor Diocletian or small stone shelters prehistoric times. Also discover local crafts, artists' studios and traditiona ltaverns where you can taste local products including world-famous rosemary honey, olive oil described by Homer as liquid gold or the famous local wine.
Solta has 4 rural villages and 4 main villages by the sea:
Grohote is the oldest and largest town of the island, located in the middle; it is the administrative center and offers all the amenities. This is where are organized cultural events such as concerts, exhibitions, wine and olive oil tastings. One of the island's most significant archeological remains is here too: a church whose baptismal font is dating from the 5th century.
Of both sides, there are three typical ancient farming villages with theirstone houses,vestiges of the past,their panoramic views, their hunting grounds. Donje Selo, the farther west, connected by an ancient road to the small bay Donja Krusica  which has a small harbor and fisherman houses.
The seaside villages each have their own charmand characteristics:
Rogac the center of the north coast,port of arrival boats connecting Split harbor and main marina of the island.There is a gas station, some restaurants and nearby several beautiful bays for swimming.
Maslinica, at the western end of the island,is located in a sheltered south-facing pinewood coveand is framed by an archipelago of seven islands. Picturesque and nautical village in a calm and authentic atmosphere, it offers a privileged site to enjoy the sea, walks and village life.It has a nice marina with a watch to werbuiltin the 18th century to defend against pirates and an attractive beach just a short walk around the harbor.
Necujam, east of Grohote, is the island's yougest village, founded by people from the main land who built summer houses here. Although the emperor Diocletian had his villa in the vicinity, Necujam is a modern resort with the largest beach of the island.
Stomorska, east of the island, is the oldest coastal village of Solta. Former marine village, it was known throughout the Adriatic for its maritime trade activity. It kept the tradition of fishing and the taverns serve fresh fish. Today it's a touristic village with lot of restaurants, music, and at night it's the most energetic place on the island; the main beach is near the center. Stomorska is also connected to Split by fast boat during the summer season.
South of Solta isa succession of small coves and hidden beaches, some of them sheltering fishermen's houses, isolated and in wild vegetation, that can only be reached by foot or small boat; a true nautical paradise.
Destination 'nature', Solta is a place where you can find peace and tranquility wherever you wander.
Solta island is adapted to peaceful tourism in all seasons.











You see rentals in
Central Dalmatia › Island Solta